Weather is always on our minds
My new favorite weather website is this  earth.nullschool.net/#current/wind/surface/level/orthographic, a graphic representation of the actual winds being reported, available for the entire globe. In this picture of southern Mexico, the big green part is the tail end of a cold front passing through the US with a tail extending across the Caribbean. The small green is where those winds have funneled through the Chivela Pass across Mexico into the Gulf of Tehuantepec.
…especially Tehuantepeckers
The next day's NOAA weather forecast for a 90-mile swathe of the golfo is INCLUDING GULF OF TEHUANTEPEC…N TO NE WINDS 30 TO 50 KT. SEAS 12 TO 17 FT. This kind of weather is a regular feature of the winter months. In fact, according to one of their blogs,  NOAA issues more gale and storm warnings for this area than for any other, except during hurricanes. They (the 'fleet mind') say small craft like us should negotiate the 240-mile crossing area around its edges, with "one foot on the beach"  or "close enough to hear the dogs bark". But we were approaching this area at the end of its heavy season, had a four-day forecast for light winds, so we mainly motored straight across, and right into the marina in Huatulco to buy more diesel fuel.
And you can also see in the null school.net image, there's not much wind elsewhere. That's been the situation for most of our trip towards the Sea of Cortez and Baja California from Panama throughout the early spring of the year. (But not all of it:
Too much wind, or not enough
). Sometimes there's an onshore breeze in the afternoon and offshore at night, but lots of lulls and opportunities to motor, against the current too.  Here is a picture of ocean currents, also from nullschool. I could watch  for hours; better than TV!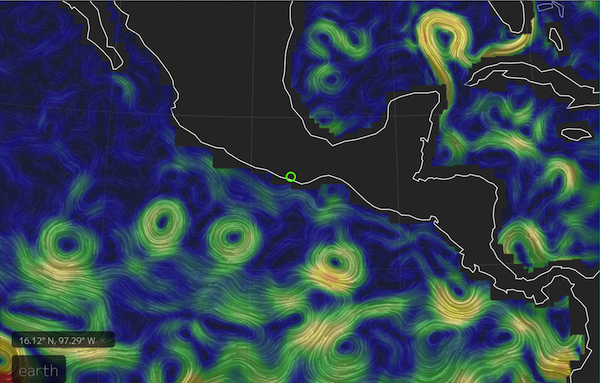 We've had our new engine for four years now but we have put at least thirty percent of its hours on in the last six months. And we're darned grateful to be able to motor, considering the alternatives.
Ship Traffic
When we're underway we always have our VHF radio tuned to Channel 16. I heard a ship, the container-carrying Maersk Wolfsburg, call another ship on to ask what conditions he had seen in the Gulf of Tehuantepec. "Force 4, in advance of a much bigger blow being forecast" was the answer.  It's the first time I've heard big ships talking with each other to exchange information not directly about course changes. I figured they just steamed through all weather no matter what.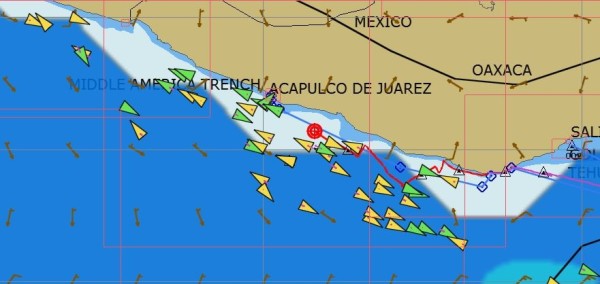 OpenCPN, our computer's navigation program,  keeps track of each AIS ship it has seen, and doesn't delete them when they are no longer 'targets', leaving the screen cluttered with 'ghosts'. There's more traffic than we would have known, but we never see more than one or two, if that, at a time.
Then a couple nights later, I heard my first Mayday. It was another container ship, reporting a man overboard, and giving the position. We were about 150 miles north and not in a position to do anything. Then it transpired that the MOB position was estimated, since the person had been missing for two hours. And then the Mexican Navy broke in and there were no further transmissions. Google tells me nothing more. For me it was a somber watch, dark and moonless,  on the edge of windy and rough for us in a 40-foot boat,  and for a man in his skin, well…..
What else could go wrong?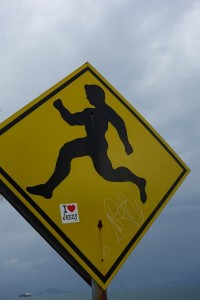 We were in a small bay outside Huatulco when we heard of the tsunami alert following the earthquake in Chile April 1. Thankfully, nothing materialized here, but we did get to think of what might happen and what we could do, not that we have any real answers to either question. Except, move to higher ground probably won't be an option.
We also heard a report from a sailboat at anchor in Acapulco during one of  two recent  big earthquakes there, one a 7+. Anchor chain rattling and grumbling, palm trees swaying, a small rockslide or two is what you first notice, they say. That boat (sorry, I didn't get the name) up-anchored and left immediately, fearing tsunamis. Probably I'd still be scratching my head!
But I did read a bit more about the earthquake warning system in place for Mexico City, which is situated on jelly-like landfill and has suffered greatly from past terremotos. http://www.economist.com/blogs/economist-explains/2014/04/economist-explains-14
Many of the earthquakes take place inland in Oaxaca along the intersection of the North American plate and the Cocos plate. Seismic waves move 7000 miles an hour, but the alarms are almost instantaneous, giving the folks in Mexico City at least a chance to get out of buildings.
 Not all anchorages are good anchorages
In fact, there aren't that many all-round good anchorages on this coast. The surf/swell/surge from all that open ocean to the southwest is a constant feature. You know it's not going to be great when the most prominent comment is about the surf spots nearby. We like to be enclosed and protected, but we're getting used to the open-ness and the rocks, sort of.
One night we shoe-horned ourselves into an anchorage in Puerto Angel, something we won't be doing again unless the harbor is somehow enlarged or emptied. All night long we moved between the rocks on one side and the rocks on the other side, but managing to stay clear of the moored boat 20 feet away. There was a big surge  in the harbor, and a very steep beach, so as I peeped out the porthole I had the distinct feeling that I was already halfway down inside a vortex, 'down the gurgler' as the Kiwis say, and I didn't like that!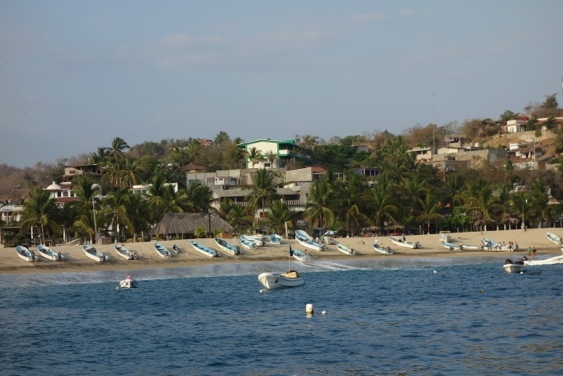 The local boats without  moorings just surfed a wave with their outboards full on until they hit the beach and, they hoped, kept going up.
And not all charts are good charts, except the iPad's charts
We do carry some paper charts, although of course the electronic ones are a bit more convenient. Coastal charts like the one above with the AIS ghosts are off by a mile or more. By their offsets, we're usually on the beach when anchored. I would have gagged on the words not too long ago, but I have to admit that our best charts and our most used close-to-shore navigation interface come from the iPad. The iNavX's Navionics-based charts seem mainly accurate, and the charts from the top-notch Mexican cruising guides Pacific Mexico and Sea of Cortez (by Shawn Breeding and Heather Bansmer) can't be beat.  These harbor charts can be downloaded thru the iNavX app (Blue Latitude Press), and the waypoints are also available as a separate download.
Dolphin Feeding Frenzy
Saving the best for last:  one day we saw this fantastic dolphin feeding frenzy, or party, or whatever it was. There were at least five hundred (guessing!) leaping, twirling, splashing, dolphins moving back and forth on both sides of us for twenty minutes, until a message came in from somewhere else and they moved on.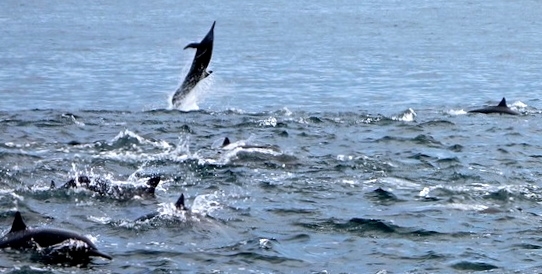 We were lucky to be part of the party as we sailed silently through. And if I'm lucky one of these days, I'll be able to upload the video too.