From our sailboat-centric point of view, Guaymas has a lot going for it, despite a relative dearth of  'pretty' or 'colonial' or 'quaint'. The Snapshot Gallery at the end of this post  may tell you more about the Guaymas that we have come to appreciate and feel comfortable in.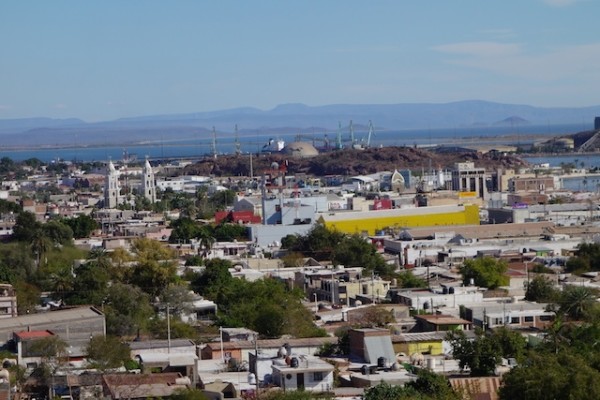 It's a working city with plenty of parts and services, if you can make do with not-yacht stuff. And if you can't, well,  shippers deliver to Arizona, only a few hours/250 miles away on the Tufesa bus. I would say it is also a city of entrepreneurs and small businesses, some rising and some waning. As befits a port city, there are numerous skilled mechanics and welders and machine shops lurking behind those unmarked doors. 
Probably you could have anything done, if you could find someone to tell you where to look. Can't get the right sized zincs? The guy at the foundry down the road (really? there's a foundry there?) will custom mold them for you this afternoon. It's another advantage of being in a place with a fishing fleet, with people who both know how to do things, and how to improvise. You just have to be clear in your mind what you want.
A Thumbnail Sketch of Guaymas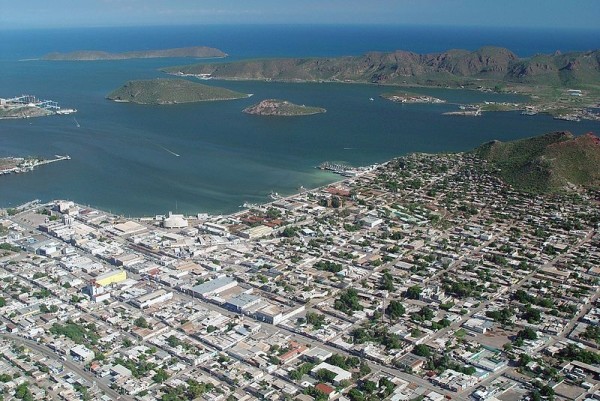 One thing that makes Guaymas tick is its port, the main port of the state of Sonora. The port serves a fishing fleet; the fleet serves some canneries, and of course seafood is on the menu everywhere.  Ships move Pemex (the government oil company) products around, bring in coal for the power plant, trans-ship grain and other agricultural products, plus copper, gypsum and other extracted resources.
Googling around I find reference to potential port expansion, and hopes of closer commercial ties with Tucson and beyond using the existing rail line and more containers, plus a plan for Guaymas to take up the slack as California ports suffer from overcrowding. The harbor will need some dredging in spots but it has a fine natural location.
Guaymas is also touted as a city with a manufacturing tradition, and its backers are proud to mention an industrial park, Roca Fuerte, as a "better choice for offshoring than China". They mention competitive pricing, that location again, and strong connections with the local community, leading to low rates of employee turnover and absenteeism.
On the outskirts, as the highway north goes through town, you'll find what you find everywhere these days, the chain store sprawl zone, albeit in somewhat smaller boxes. Walmart, (and the Mexican supermarket chains, Soriana, and Ley),  Autozone, Home Depot, Burger King, McDonalds, they're all in a  jumble out there. On my personal map of north Guaymas is the ice plant, just before the airport, and the turn off that will take you on the back road along the water, or the road via Miramar, if you want a more natural view.
A very short and possibly inaccurate history
This area was first explored in 1539 but it sounds like there were only occasional small settlements, for example, in 1821, "one house, occupied by a thief." Then the pace picked up, to the point of battles with Americans in 1846 and French in 1865-66. Mexico's history is complicated, and told by those, generally, who won, or at least lived to fight again. But three of Mexico's presidents did come from this area, and are memorialized in a large, and largely empty, plaza near the waterfront, centro and marina.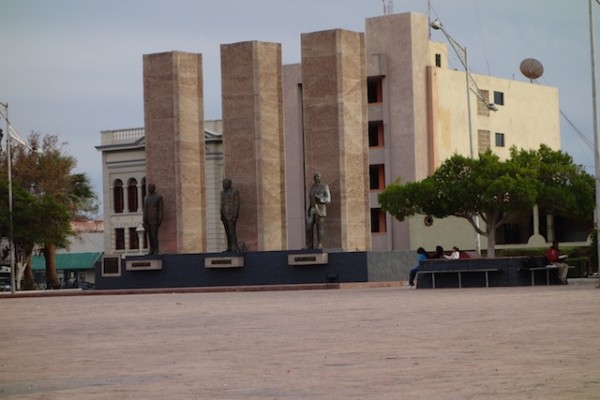 In the late 1800s…
A monthly steamer visited from San Francisco, and "quality goods" came from Germany. [Don't they still?] I'd like to know more about this German connection. The mayor of Guaymas has a German name. And the music all over the country sounds like Bavaria, full of accordions and tubas and a yodel-y, oompah, polka-ish sound.
Wikipedia tells me that there were a number of Catholic Germans in Texas who sided with Mexico during the Mexican-American war of 1848 and resettled in Mexico afterwards. The Emperor Maximilian I brought in some German settlers around 1865. Later President Porfirio Dias and the German Prince Otto von Bismarck conspired to bring more Germans, mainly to the south (coffee plantations we saw). A  wave of Mennonites came to some northern areas in the 1920s. [Wikipedia says that by their community rules, the men may speak Spanish, but the women must continue only in PlattDeutsch – I wonder if this is true?] And finally, there was a lot of German immigration during and after World War II.
So maybe that's  why so much music around here sounds so German (and the beer is good!) Now, back to regular programming….
The Santa Rosalia Connection
The railway line construction began in 1880; in the night, across the bay, you can sometimes hear the whistle blow. Eighty miles across the Gulf of California in Santa Rosalia, copper production began in 1885; that copper was shipped to Guaymas and thence overseas.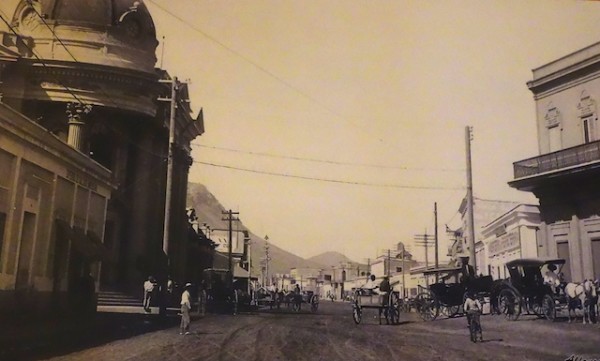 "In 1890, the population of Guaymas was 10,000. These people were proud to live in a city with modern services: electricity, telegraph, urban railroad and especially a communication with the principal ports of the world across big shipping companies. The economy of the port was of great importance." (from puertodeguaymas.com.mx)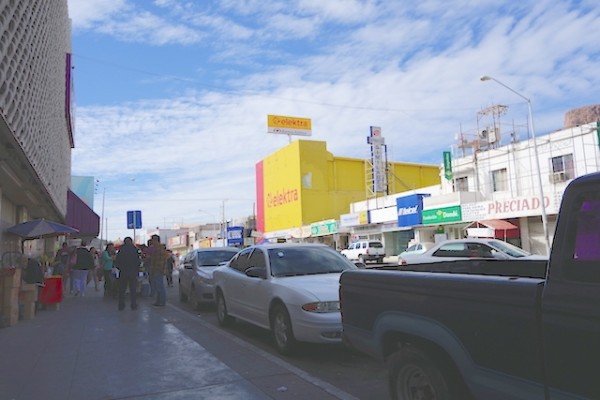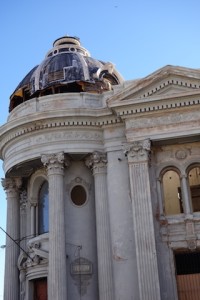 So Guaymas is a working city, with an economy whose  reasons for being have little to do with the visitors/tourists, except as they need support in the satellite town of San Carlos. We visitors are barely a blip among the (possibly) 150,000 metropolitan inhabitants. The fact that people hardly notice us  may be my most favorite thing of all about Guaymas. It's a real relief not to be the lynchpin of the economy. And yet, look lost or ask a question, and you'll almost invariably be met with a smile and real help. We've become quite comfortable here!
What about San Carlos?
San Carlos, a half hour bus ride to the north and west is much more a gringo zone. When we crossed the international border, San Carlos is where they assumed we were coming. There are two marinas with dry storage yards, and a nascent resort town with hotels, restaurants, curio shops and the other sundry accoutrements. There's a big RV park; but I'll bet most of the visitor population lives in the several housing developments (aka ranchitos ) you can see spreading back into the hinterland. To me they look kind of mono-cultural, but at least they're not in Alberta!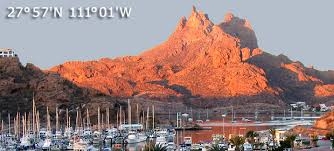 Of the San Carlos area, the Lonely Planet guide said something to the effect of  "beautiful desert-and-bay landscape presided over by the dramatic twin-peaked Cerro Tetakawi" and "full of norte-americanos from October to April." Somewhere else I read that these winter people only spoke English and didn't bother to exchange their dollars for pesos.
We are them, I guess. We went to Hammerhead's, a sports bar in San Carlos, several times as U of Alabama moved towards the (US) national collegiate football championship; spent pesos alright, but spoke English. And fit right in. But Alabama didn't.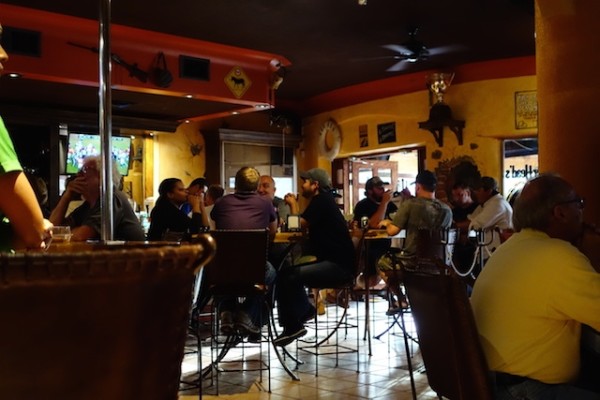 When I repeated the remark, I was tartly reminded that many norte-americanos also did their best to support the economy and numerous of them supported good works, in particular the local orphanages and animal shelters. Point taken.
A friend who likes to play basketball pointed out that he looked in vain for courts in San Carlos. Finally he realized that basketball courts are usually at the schools, and there are no schools in San Carlos because the locals mostly live in Guaymas and take the late bus home.
Enough of the lecture. Here are some random photos of Guaymas over the course of several months.