One of the nicest places we sailed to in 2015 is the bay called San Juanico on the Sea of Cortez. On the chart it's also called Punta San Basilio and lies about 26 22 N, 111 25.7 W, halfway up the Baja California peninsula. This is not to be confused with San Juanico the surfer/fisherman town at Scorpion Bay on the Pacific side. Please see the Photo Gallery at the bottom of this post – more pictures than words this time!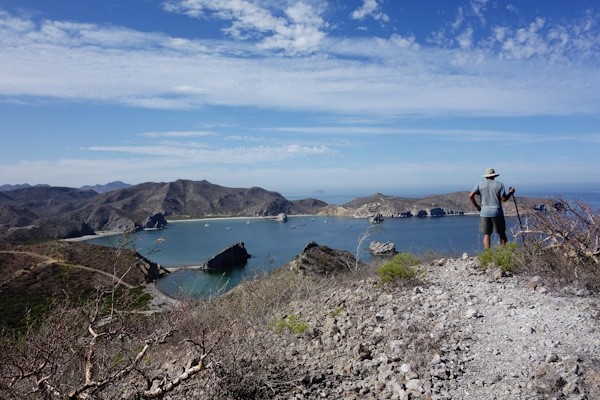 Squint or zoom and you'll see a couple of empty houses on the far shore, fancy by some standards (swimming pool!) but realistic in terms of the ten or fifteen miles of dirt road that separate this spot from the highway, and the thirty or so beyond from Loreto, the nearest town. 
Here's how it looks from the sky, courtesy of Google Earth.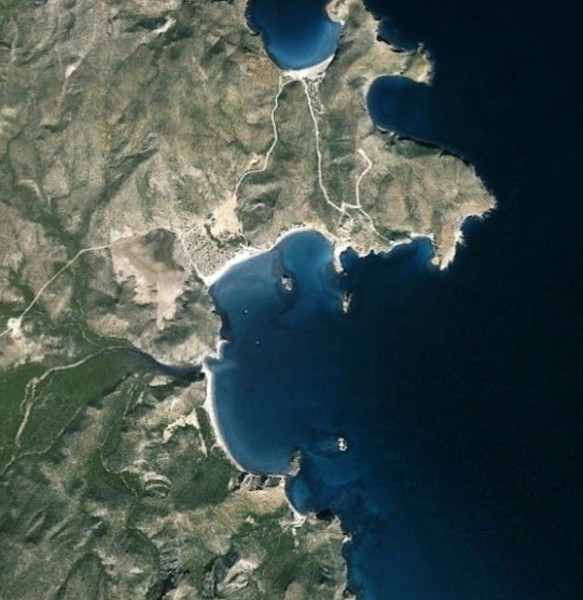 You might see a couple of RV or pickup truck campers on the beach. Only the relatively intrepid people make it this far. The smart ones come year after year and stay for weeks on end, driving out occasionally for water and supplies. It's muuuuy tranquilo here.
But for the most part San Juanico is visited by boaters like us. It's one of the better anchorages, with protection from the prevailing winter northwesterlies and the summer southerlies. Although, I can testify that an uncomfortable swell can and does roll in around that northeast point when the winter winds are up.
You can walk along the roads, or on some trails along the estuaries or atop one of the ridges. If you try to walk all the way to the highway (and don't bake or desiccate first) you'll pass a small encampment where a family sometimes has vegetables to sell. We also heard of a place with petroglyphs but never stumbled upon it. Maybe next time…
Between the hikes and the beaches and excursions by dinghy for fishing and whale-watching, you won't even notice that there's no word from the outside world. It's as distant as the occasional con-trail overhead.
Our second visit coincided with Easter week, Semana Santa. The handful of  RV people had gone back north. They were replaced by Mexican families, from Loreto and beyond, celebrating what must be the biggest holiday week of the year. Fishing, popup sleeping tents, shade tents, kids playing in the sand, it was all great to see.
By the end of the week they too were gone.The beach again belonged to the seagulls, the bay to the yachts moving north toward their summer homes.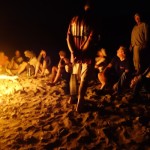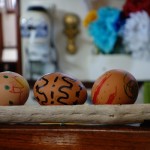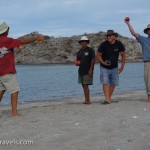 San Juanico Photo Gallery
So without further ado, let's look at some pictures of the bay and the land around it.