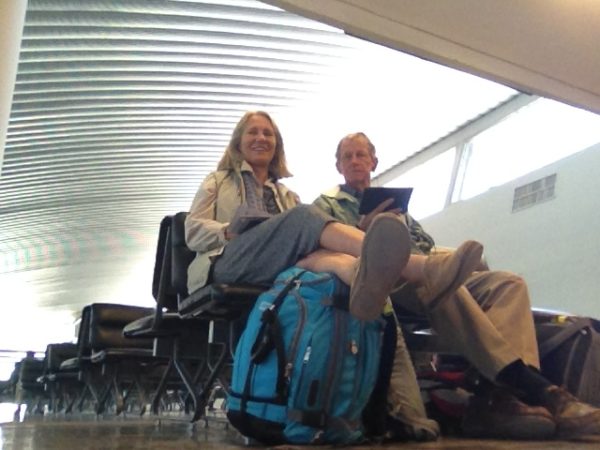 Doug and I are sitting in Cuidad Obregon's very civilized (small, modern) airport waiting for Interjet to whish us away to the Big City of Mexico, aka Mexico, or the DF, Distrito Federal. We decided to do a little land travel this year while we still have the oomph to lift our backpacks.
We are aiming for Patagonia Chile and maybe Argentina too. I'd also like to see the geysers in the Atacama desert which is all the way at the other end of a really long -2670 miles- country. So we're starting in the middle, Santiago, where all the planes fly.
We'll stay in hostels, which we find good for meeting other travellers and getting useful information. We usually ride the buses (South American long-distance buses can make Greyhound look very long in the tooth) but as I said, here we are in an airport having balked at the prospect of a 25-hour ride through Mexico.
Given that the trip plan is to have no plan beyond movement and serendipity, the most befuddling part so far has been the packing. We started with carry-on sized convertible backpacks with a capacity of ~42 liters and put our hiking shoes (they are not even boots, but they weigh five pounds each pair). The bag is full.
Well, actually not. I got 20 more pounds of stuff in mine, and Doug in his, but it was packed, unpacked, repacked, reconfigured, substituted, sat upon and reshuffled so many times that I'm not sure what actually made the team. Less is better, it is said, but how many summer clothes make a layer of glacier-proof winter wear?
The entire pre-travel process actually makes me a little anxious. Nobody like to pay too much or make the wrong decisions, but I eventually reach a stage where I'll push the next button that appears rather than parse the possibilities any longer. Then for weeks I worry that I've made a mistake on the booking, or have the connection on a different day than the origination, or mis-marked my calendar,  forgot to set the alarm clock or the day of the week. But none that happened this time despite the energy I wasted wondering if I had gone wrong.
So here we are, waiting to board. If you get this you'll know none of what I feared came to pass (as usual). The trip is underway, and taking on a life of its own.