A travel piece I read years ago, plus curiosity about her paintings,  made me think I'd like to visit Frida Kahlo's Casa Azul. And now, here we are, 10 subway stops and a short walk away, with a shiny new Metro card in hand. So, vamanos!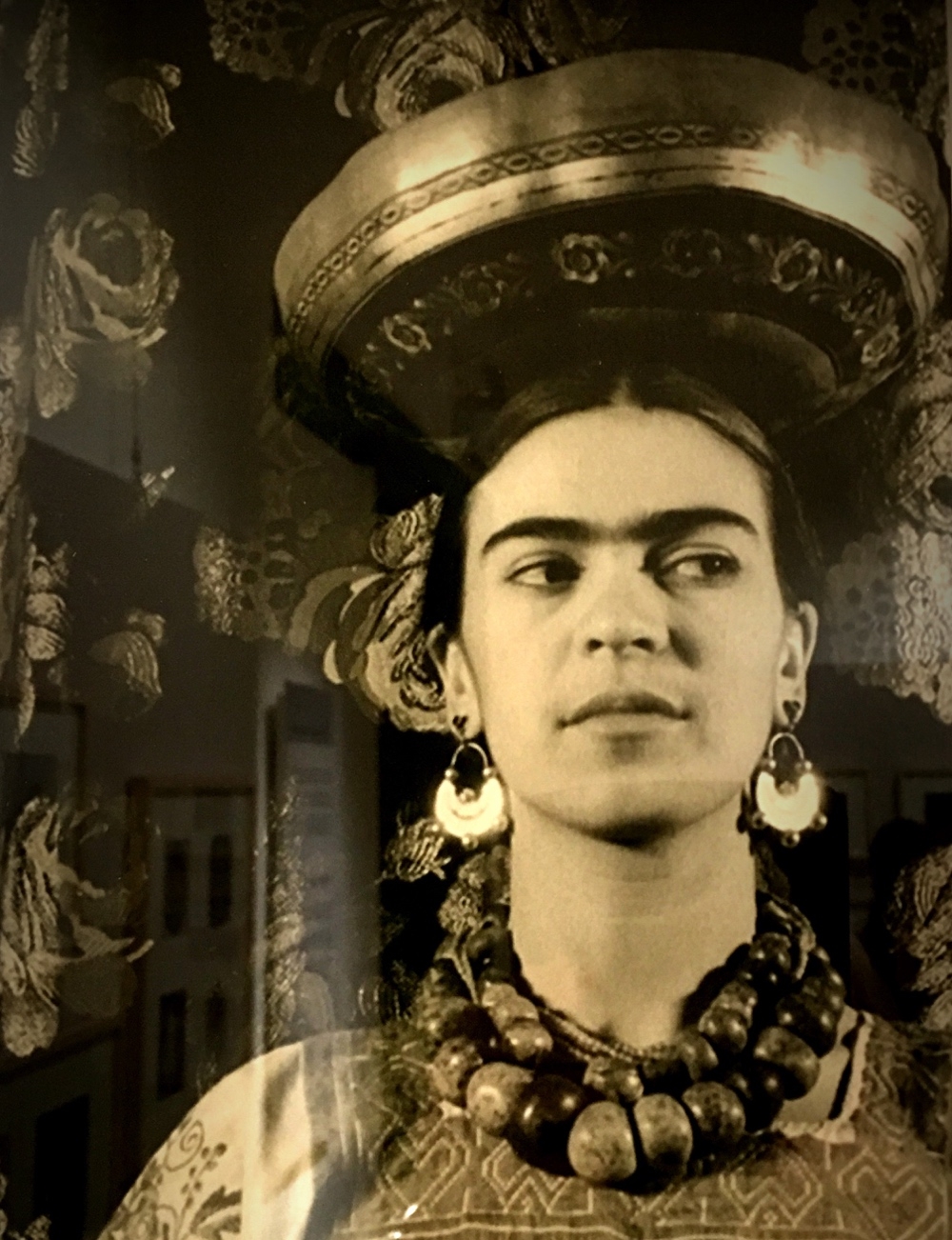 If you are unfamiliar with the name of Frida Kahlo, perhaps you will recognize her by her distinctive unibrow and exotic dress in the photo above, or in the painting below. The majority of her work was self-portraits, at least in part because she had many medical issues and spent a lot of time recuperating in bed with no other subjects at hand.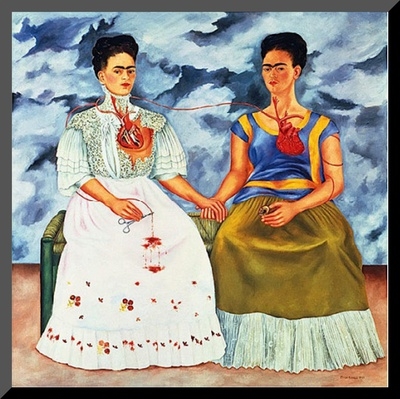 I admire Frida Kahlo's work because I think it's striking and surprising. In art jargon, the style is called 'surreal' and 'naive' and 'folkloric'.
So that is a crash course about Frida Kahlo.Now let's go look at the famous Casa Azul with its two stories, and ten rooms, and internal courtyard.
It's in the district of Coyohuacán, which was a village on the outskirts of the city when Frida's father Guillermo built there at the turn of the last century. Her husband Diego Rivera, the noted Mexican muralist, added the studio wing in the 1940s when they moved in. At the time it was considered an artsy, bohemian and intellectual neighborhood.
According to records and testimony, and Wikipedia, "the house today looks much as it did in 1951, decorated with Mexican folk art,[3] Kahlo's personal art collection, a large collection of pre-Hispanic artifacts, traditional Mexican cookware, linens, personal mementos such as photographs, postcards and letters, and works by José María Velasco, Paul Klee and Diego Rivera. Much of the collection is now in display cases designed for their preservation. The museum also contains a café and a small gift shop."
First the kitchen. I hope these photos zoom well, because there are a lot of interesting details.

Which leads to this cozy little sitting room.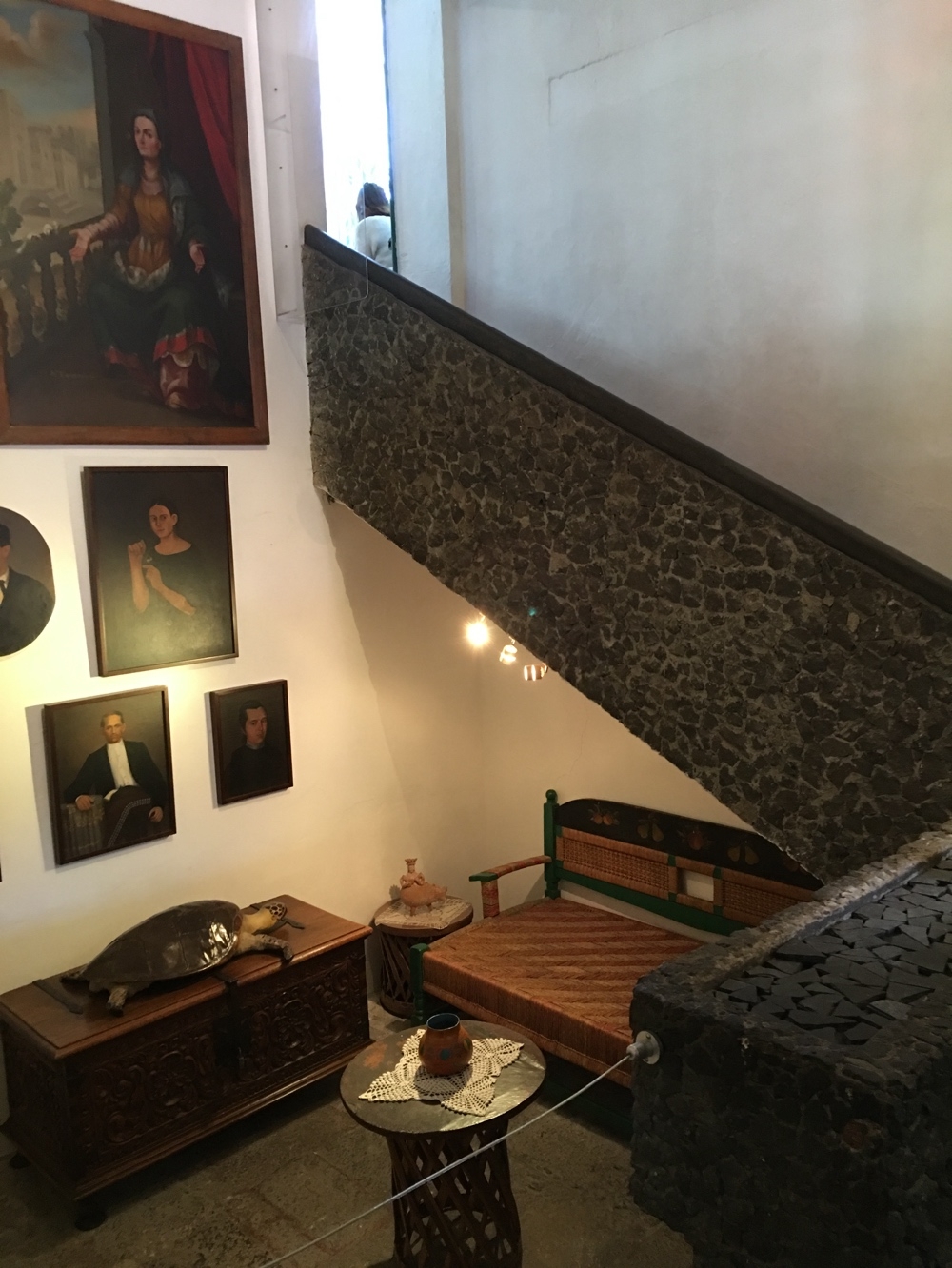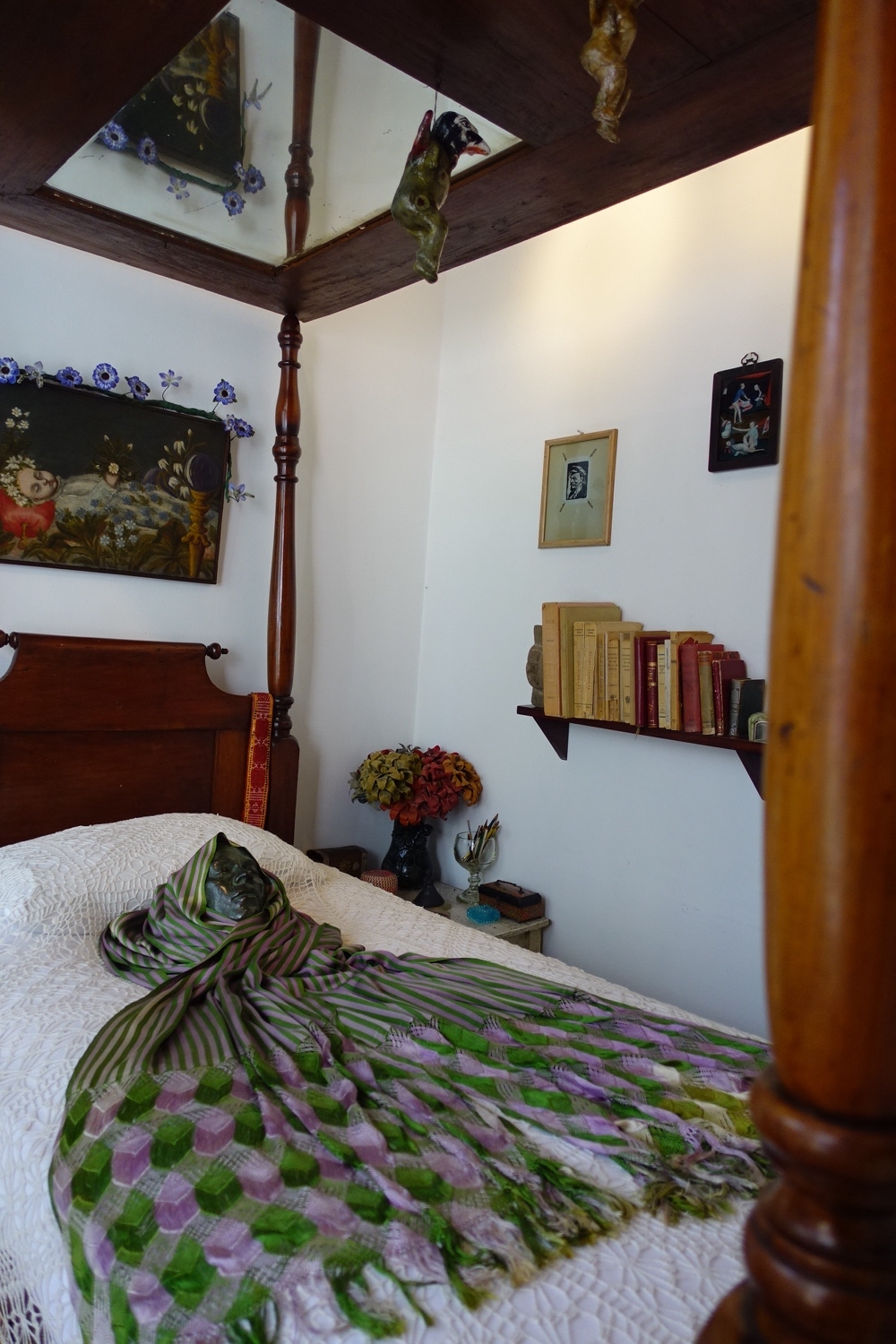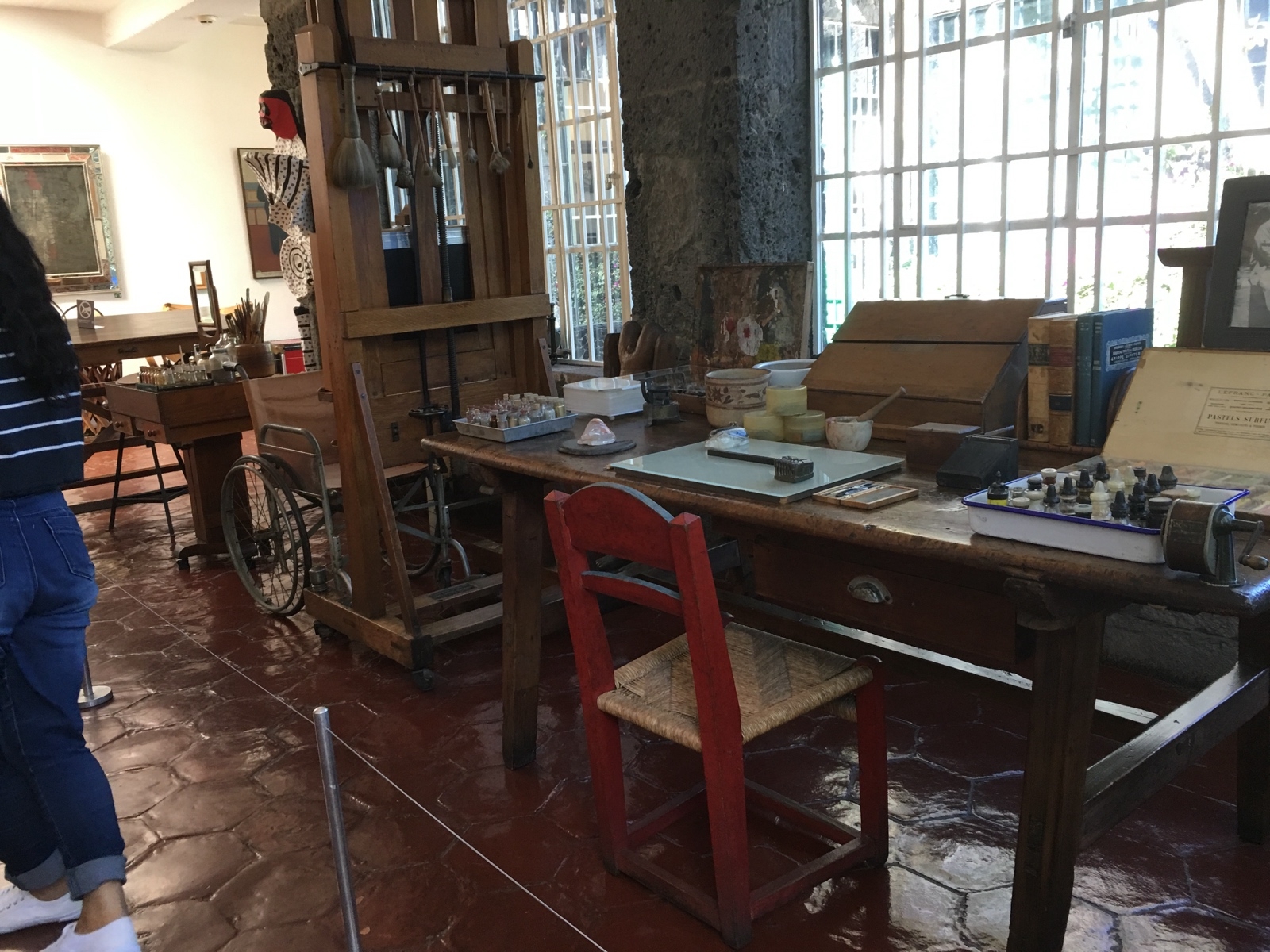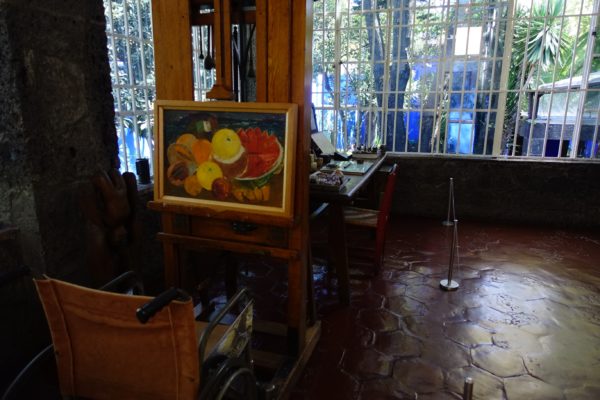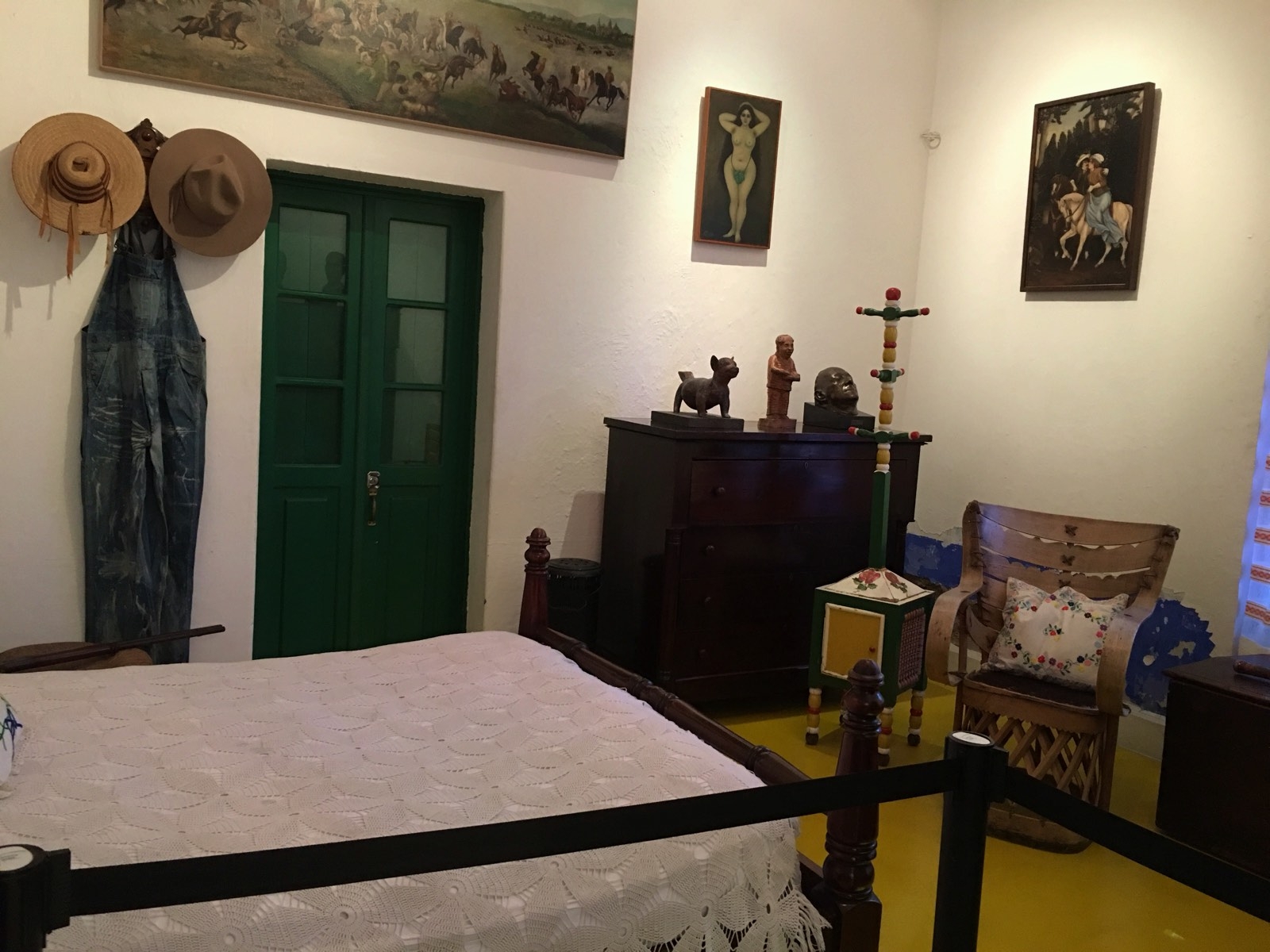 The house is lovely – I could move in tomorrow, but for the heavy tourist traffic. It's one of the most popular museums in Mexico. Frida was known in her lifetime, but became much more popular starting in the 1980s.
What turned out to be even more interesting to me than the house was Frida's life as it related to her health and her art. In my mind she is a powerful and stately woman; something about the straight, enigmatic stare, perhaps. So I was taken aback to learn that she was 5'3″ tall and weighed 98 pounds. Diego was a large, even portly, man – it was said  they were  "a bull and a dove".
She had polio as a girl and her right leg was withered and shorter than her left. Then, at 18 she was almost fatally injured in a bus accident. Her spinal column, collarbone and right foot were broken, and a steel handrail penetrated her abdomen and uterus.
From then on, her physical condition gradually deteriorated, and she was wheelchair-bound for ever-increasing periods, not to mention the psychological trauma and ongoing pain from 22 further procedures including miscarriage, abortion, amputation of gangrenous toes etc. It explains a lot about her subject matter. One of the reasons she painted so many self portraits was that recovering from her various surgeries kept her alone alot. Increasingly frail, she died at 47.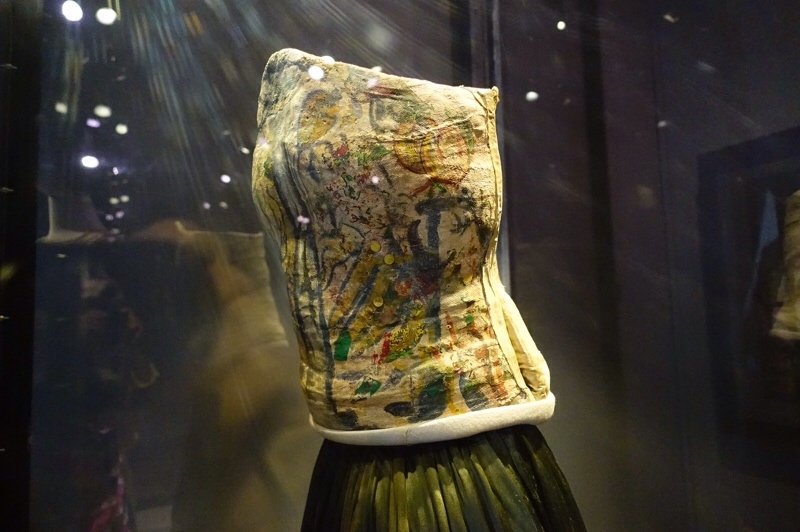 One of the most iconic features about Frida Kahlo is her clothing. It is very elaborate, and mostly traditional. The long skirts cover her legs, and the heavy adornment on the upper part of the body focuses the attention there. It also made her distinctive, and autonomous from her famous husband.
Whatever the initial reason, her personal style staked out a prominent position for her in the art and fashion worlds. These aren't my ideas of course; all of this is paraphrased from the reader-boards at an exhibit of her clothing and orthopedic devices which were found in a storeroom fifty years after her death.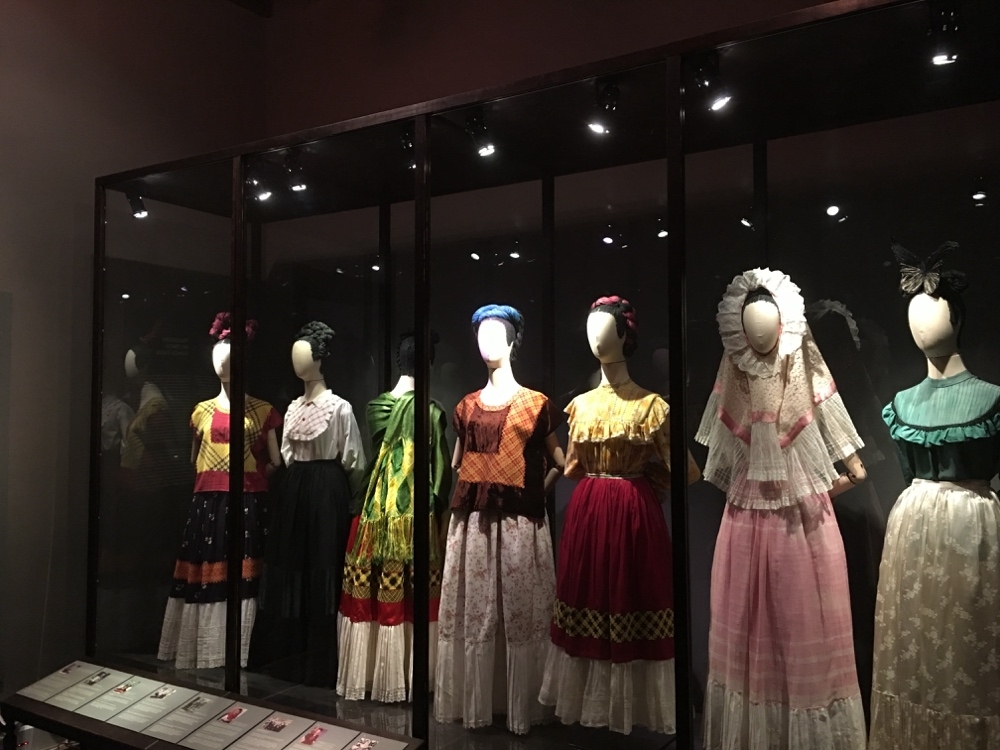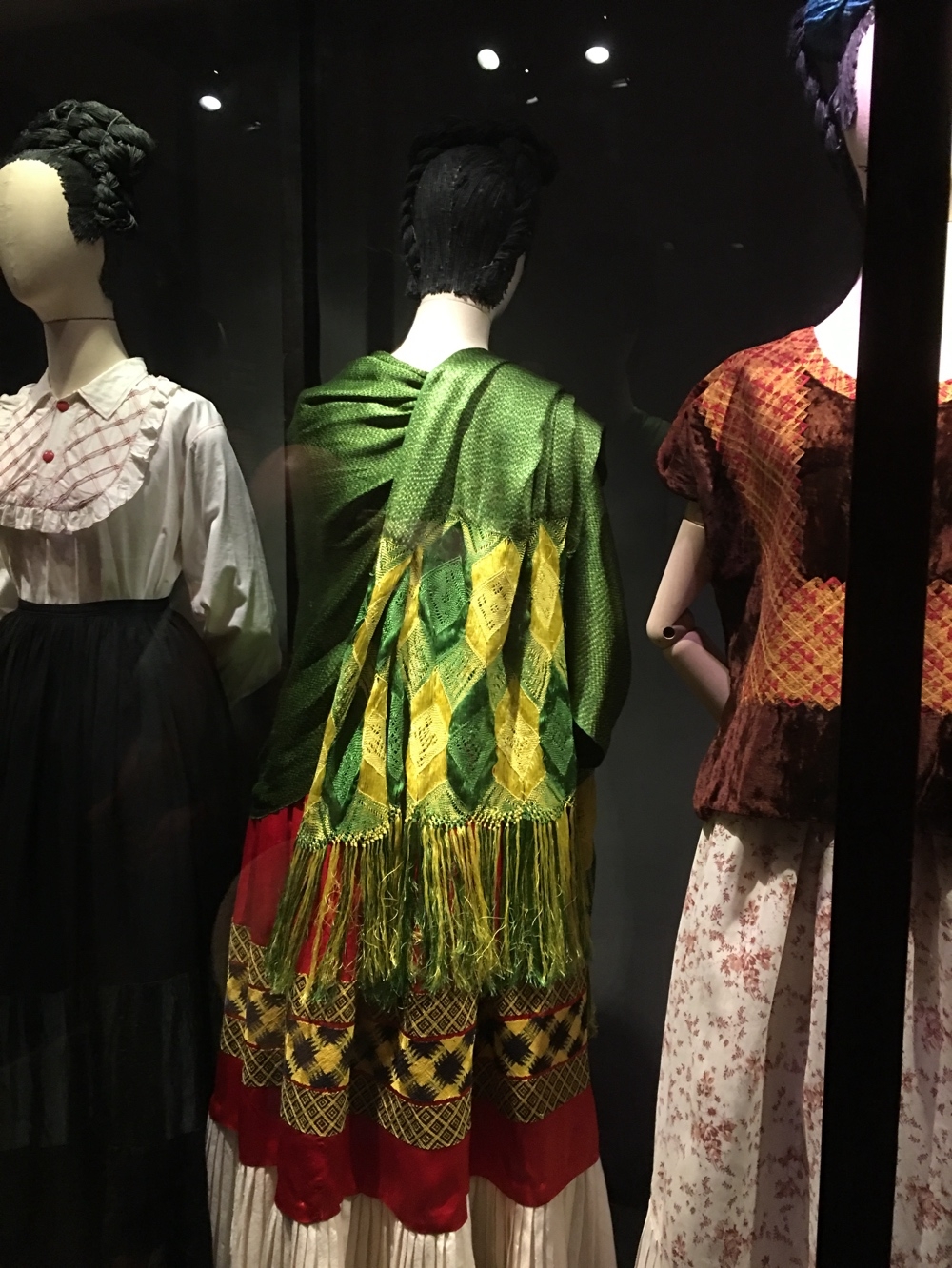 While it was great to visit the house, there is surely much more to Frida than an hour's visit and a dozen reader boards can convey. This Wikipedia entry leaves a different, and more nuanced impression than one might get from the house signs.
https://en.m.wikipedia.org/wiki/Frida_Kahlo#
For instance: Her husband had lots of affairs (one with her sister) but Frida did too, with men and women. They divorced, they later remarried. And her sister was with her when she died in 1954. She was said to be fiery and passionate, and something of a drinker too. She had a following during her lifetime, but has become increasingly popular since the 1980s.
It must have been expensive to be Frida. Where did the money for all the medical stuff, and the clothing and accessories come from? How about household staff? How did she keep herself going despite chronic pain and recuperation? Where did her ideas come from? Was she fun to talk to? Could we have been friends?
I can only speculate, wonder at the paintings I see in exhibits and books, and re-gurgitate what I have read.  I'd suggest you visit Coyohuacán if you can. Go early to beat the tour buses. Tickets are easy to get online and will get you to the head of the queue. Meantime, more photos.
---