Newton the Hurricane
While the crew of Galivant was in Maryland doing our summer job (home maintenance, as opposed to boat maintenance), the big event in Guaymas was Hurricane Newton on September 7. Newton lost some of its oomph crossing the Baja peninsula, but still packed significant punch as it made landfall near Guaymas in the dark of night.
There are roofs peeled off in town, trees remarkable for their absence, missing signs, etc. The crumbling dome on the classic old bank building downtown that we hoped someone would rescue (http://galivantstravels.com/2015/01/26/guaymas-sonora-mexico-2/) – well, we don't have to worry about that any more. It's gone. Electric power went out but as happens in these cases the country pulls together to get the utilities running again, pronto, mostly. Everybody has a story but in short, Guaymas doesn't look all that different from its usual self.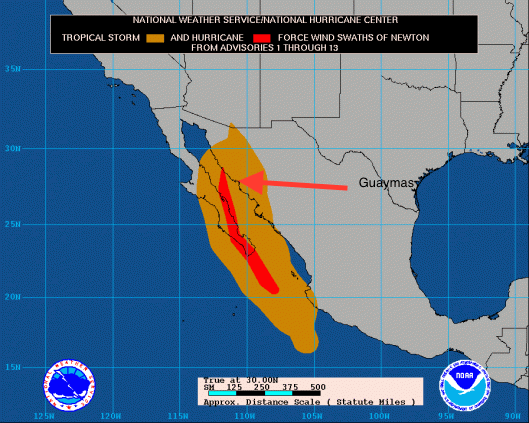 Most of the boating community weathered the storm well. We had heard from staff and from friends at Gabriel's Marina Guaymas that Galivant was fine. When we arrived after a cross country drive two months later, we got details of what must have been a long and frightening night for Andrés, Roberto, Alejandro, Gabriel and the rest of the staff. It wasn't so much rain as wind, they said, lots of it. The men circulated constantly, checking and tightening the boat stands, and in the end only a handful of boats got into trouble.
Up at the dry storage yard at Marina San Carlos, they weren't so lucky. That yard hauls boats out on trailers rather than on a travelift; as a result they can be, and are, blocked up closer together. When one boat goes down, it's more likely to take others with it.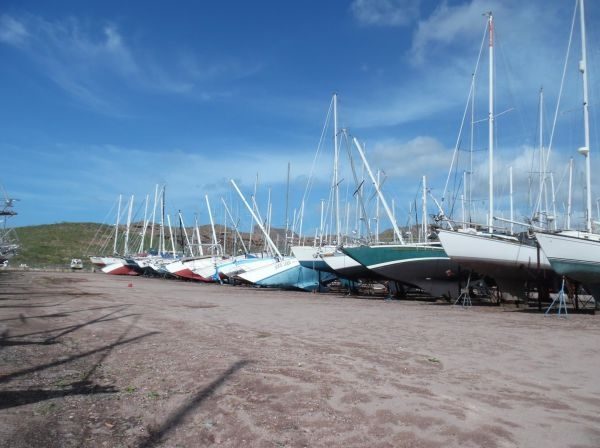 In nearby San Carlos, Newton toppled a row of sailboats as if they were dominos. Photo courtesy Latitude 38.
The Fonatur Marina in Guaymas also took a hit. The docks were lightly built to begin with, and there were some large, and unattended, vessels,  beyond the ability of the folks on hand to deal with. In the end I believe seven boats in the water were sunk. Finger piers ripped off and the docks will need major attention.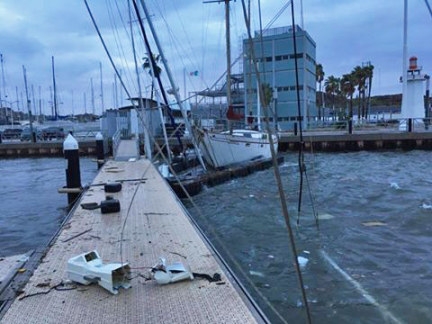 The biggest surprise, in a 'what's wrong with this picture' kind of way, was  the storage tanks in the shipyard across the lane from Galivant. They have formed the view from our cockpit while we're out of the water – well, they blew over, all together. And it took me a hour to notice!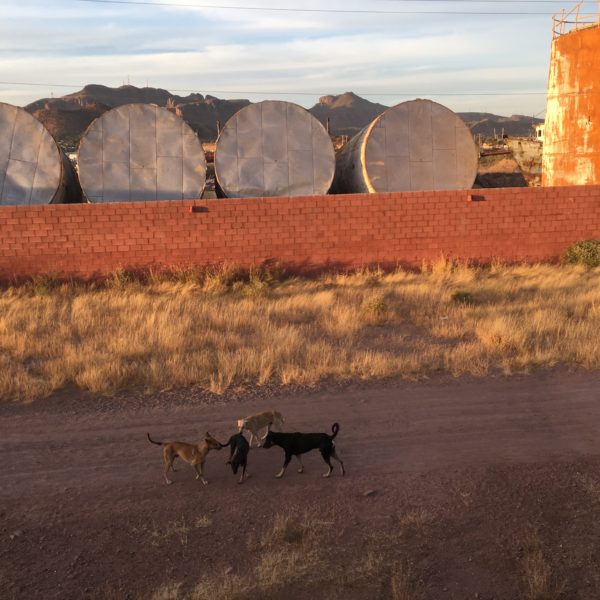 A note about the dogs. It would be hard to tell if these are exactly the same dogs as in previous years – there are so many, and they have a lot of genetic material in common – but life for them appears to be poor, nasty, brutish and short (although not solitary). We've tried feeding the mother dog anonymously (by taking food to a location not near our boat) but she's got my number and looks yearningly at me each time she sees me. I wish I could add some form of birth control to the tortillas and chicken bits I usually offer.
DÍA DA LA REVOLUCIÓN
The third Monday of November is set aside to celebrate the start of the revolution in 1910 which  overthrew the aging dictator-like President Porfirio Diaz. Here's a very abbreviated (I promise!) version of what happened next to bring this about.
There was much anger after Diaz promised an election, then rigged the results. After examining the forces arrayed against him, in 1911 Diaz accepted exile in Paris. The new president was Francisco Madero. Among Madero's supporters were Francisco 'Pancho' Villa in the north, and Emiliano Zapata in the south. "(Theirs) was a locally based revolt, intent on restoring village rights to lands, forests and waters, (favoring) a self-ruling, communitarian democracy, inspired by shared traditions. It was, in many ways, a conservative revolution."*
It turned out that Madero was less interested in these social and agrarian improvements, and more interested in political changes. So Zapata rose up against Madero in 1913; then a General Victoriano Huerta turned against him too, with the upshot that Madero and his vice president were executed.
Huerta was overthrown in 1914 by Venustiano Carranza, but the Villistas, Zapatistas and Carrancistas were still divided. This is when the US, in support of Carranza, sent troops to Mexico to capture Pancho Villa, but failed. Zapata divvied up land for the campesinos in the south but was eventually forced to retreat to the mountains. (There's lots more to both these stories; see http://latinamericanhistory.about.com/od/thehistoryofmexico/a/08panchovilla_3.htm)
And Carranza in 1917 was able to form a new constitution and hold onto power until he was succeeded by Alvaro Obregón in 1920, at which point it seems the revolution was considered over. Emiliano Zapata was assassinated in 1919. Francisco Villa was pardoned in 1920, but was killed on his ranch in 1923.
As revolutions go, this one, according to Fidel Castro's recent obituary in the New York Times, was the most transformative and longest lasting in its impact of any Latin American 20th century revolution, other than Cuba's.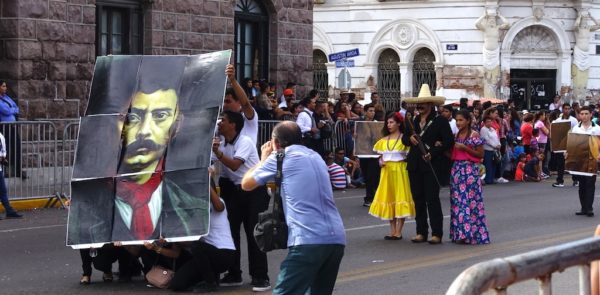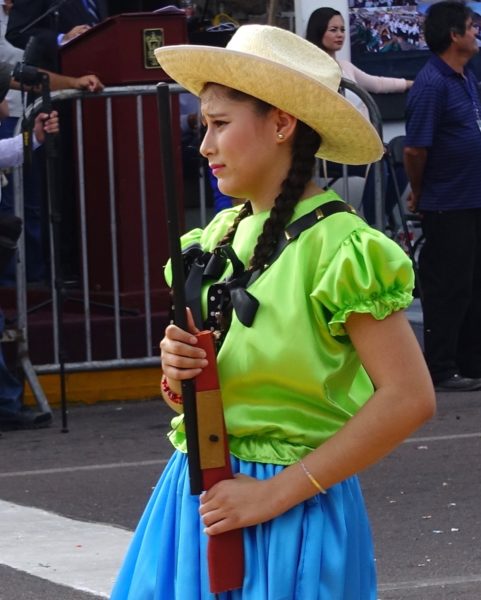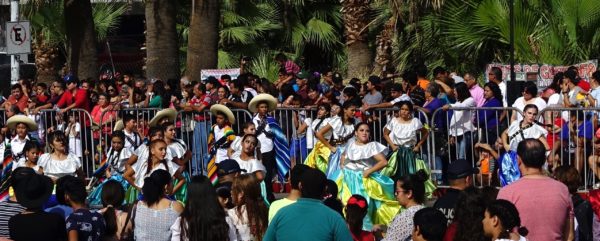 I was impressed by what a gentle, respectful parade this was, no duelling sound trucks or carnival-raunchy behavior. And I was impressed too by the women who made it all the way down the parade route in these shoes!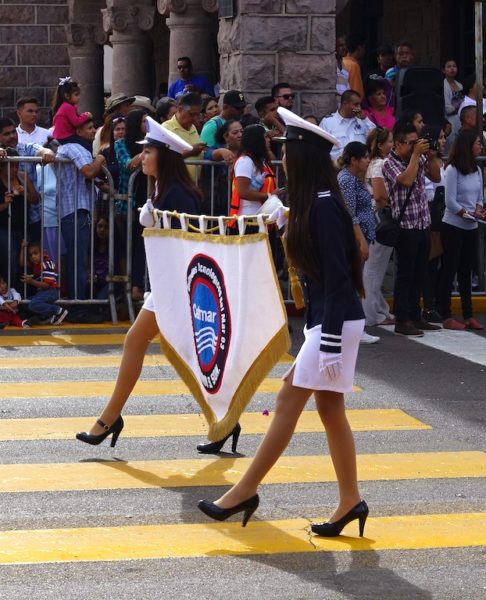 And now for a few more photos.
*http://www.nytimes.com/1988/03/13/books/history-out-of-chaos.html?pagewanted=all  This is from a long and educational review from the NY Times about a book called Revolutionary Mexico, by John Mason Hart. Sounds interesting, even if it was published in 1987 and reviewed in 1988.